Historical Theater Seating Restoration, Reupholstering and Repair
View our Photo Gallery!
Servicing the Entire Continental United States
The Historic Theater Seating Restoration and Reupholstering Professionals
Unfortunately, many movie theater customers don't treat your historic furniture like they treat their own furniture at home. American Office Services understands the commitment it takes to keep your seating looking it's best to ensure your patrons become repeat customers. When it comes to graffiti, ripped upholstery and fabric, run-down wood and metal finishes, spilled food and beverages, and objects stuck under the seats, American Office Services offers an affordable alternative to historic theater seat replacement costs. Using our state-of-the-art reupholstering and restoration techniques, your historic theater seating can look as good as new.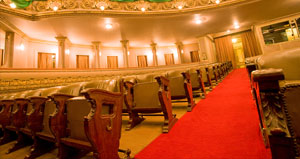 Here at American Office Services, Inc., years of combined industry experience has assisted us in understanding your upholstered theater seating needs and perfect a cost-effective solution: quality reupholstering, restoration, repair and refinishing. We utilize specialized equipment, a unique reupholstering and refinishing process, and countless other ways to provide upholstered theater seat restoration of the highest quality, convenience and affordability. The unparalleled appearance, comfort and durability of your refurbished theater seats makes them almost like new.
Do You Have An Agenda For The Continued Quality Existence Of Your Historic Theater Seats?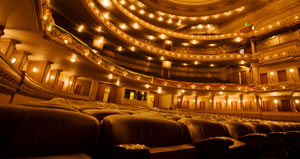 We Do!
We recognize the maintenance needs of historic theater seats over their lifetime especially when taking into consideration today's heavy usage. Studies have shown that the average multiplex theater seat will last up to four years. So we not only provide the best seat restoration in the industry, but also a program that services your theater seats every step of the way.
The Transformation From Old To Like New Condition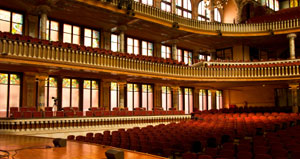 Theater seat restoration (reupholstering and refinishing) can be done both on-site and off-site, depending on the scope of the project. We have a wide range of fabrics, metal finishes and foam packages for you to choose from. Firstly, all of the upholstered inserts are removed from the metal or plastic frames. Then all the fabric is stripped from those inserts. If desired, we can also provide metal restoration services on-site or off-site and refinish your wood armrests. Meanwhile, new foam and fabric are being installed to the inserts. The entire seat is then reassembled. With our process, there is virtually no downtime and minimal interruption to scheduled events you may have during the time of our restoration process.