Auditorium seating reupholstering and restoration. Historic theater seating restoration and repair. Electrostatic locker painting, repair, and Master Locks. Electrostatic painting of filing cabinets and laboratory equipment.
Welcome to American Office Services - Auditorium Seating Reupholstering and Repair, Theater Seating Restoration and Repair, and Electrostatic Locker Painting.
With over 25 years of auditorium seating reupholstering and electrostatic locker painting and repair experience, we have what it takes to create a customized, cost-effective solution to your upholstering and repair needs.
We utilize specialized equipment to offer you the convenience, speed, quality and affordability you demand when it comes to repairing, painting and reupholstering your auditorium, university, church and office furniture.
Why purchase something new when you can repair what you already have and make it look and feel brand new?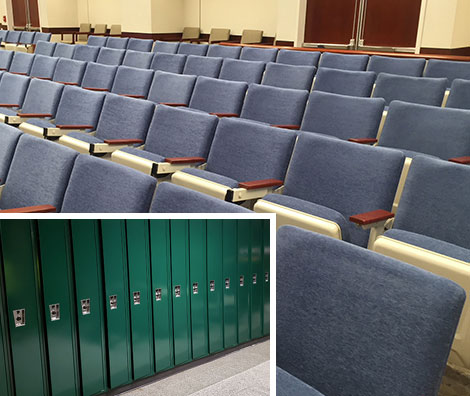 Latests Posts
Dock Street Theatre, Charleston, SC

A beautiful and historic venue dating back to the 18th century, the Dock Street Theatre has survived the Civil War, two World Wars, the G...

READ MORE

Hayfield School District, Hayfield, MN

The Hayfield High School lockers needed a face-lift. When schools were shut down due to COVID-19 in the spring of 2020, the district deci...

READ MORE

Introducing the All-New AOS Locker Guard™ Corrosion-Proof Locker Bottom Inserts

PLASTIC LOCKER BOTTOMS: CORROSION-PROOF • DURABLE • COST-EFFECTIVE • 15-YEAR WARRANTY Made of High Density Polyethylene (H...

READ MORE
What Clients Say
Looking forward to working with you again Scott, you guys do very nice work! Brian Kuykendall

The chairs look great!!! It's a pleasure to work with people that appear to love what they do and provide wonderful service. Chris Parker, City of Ecorse, MI

Our old rusty and broken down lockers look like they are brand new. The crew came in and electrostatically painted our lockers on site and on time. John Raymond

American Office Services reupholstered our auditorium seats and saved us a ton of money. Sheryl Castro

We had multiple projects running simultaneously and American Office Services provided top-quality project management. Steve Velay