Electrostatic Painting of Office Equipment
Electrostatic Painting Filing Cabinets
Don't replace your filing cabinets - have them refinished to like-new condition!
The Electrostatic Painting Professionals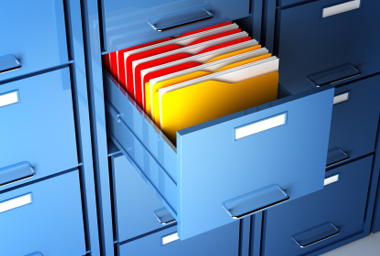 We have over 20 years of experience in on-site electrostatic painting. With specialized equipment, we offer on-site electrostatic painting of filing cabinets. Our process is convenient and provides you and your facility with speed, quality, and the affordability you demand. Have another project going on simultaneously? No sweat, we approach each job with the client in mind. We want to hear your ideas and what other projects may be coinciding with the project we are completing. We'll meet with you to go over project requirements, budget, and logistics and then manage the project in a way that doesn't interrupt you or your student's daily activities.
So, what is electrostatic painting?
Electrostatic painting is a technique for painting metal structures. The original metal structure may or may not have existing holes or cavities. With electrostatic painting, paint is sprayed through a grid of wires that forms one 'electrode' onto the metal surface that is to be painted. The metal surface forms the additional electrode, to which the paint particles are attracted. The metal surface is given a negative charge while the paint is given a positive charge. This process ensures a uniform coating and allows paint to access very difficult to reach surfaces.
Why is electrostatic painting the best option?
Using electrostatic painting technology, the paint is attracted to the metal structure using a magnetic process. Needless to say, on-site electrostatic painting is the right approach to refinishing metal surfaces because it:
Saves time and money replacing existing equipment
Ensures that entire metal surface is covered in a uniform and beautiful finish
Protects all surfaces, even the 'hard-to-reach' surfaces, from corrosion
Provides the most durable paint finish to the metal surface
Because the process is done on-site, you don't have to worry about being without equipment for extended periods of time