Servicing the Entire Continental United States
Services we offer: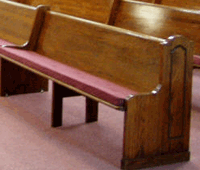 In addition to the many different types of reupholstering we perform, we also offer church pew reupholstering. We offer reupholstering of plain wood bench pews as well as reupholstering of your current padded seating pews. We will inspect the pews to be sure of the structural integrity to prevent future replacement.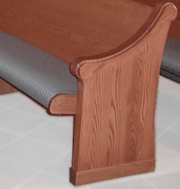 Our process is the most efficient in the business. We perform on-site pew reupholstering and do the work within days so that your services will continue with minimal to no disruption. We understand that your pews are valuable to your organization and will treat them with care and make them perfectly comfortable for you and your members. We will reupholster any size or style of pew including curved and straight wood. We can upholster the seat portion only or both seat and seat back.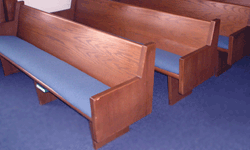 We use the highest quality foam interiors that provide maximum comfort and resilience. We offer both Sherpa & Shire fabric lines from Absecon Mills. All materials are of the highest quality and assure the smoothest appearance without distortion. We make it our business to make your old pews appear and feel as if they were brand new.