Servicing the Entire Continental United States
Services we offer: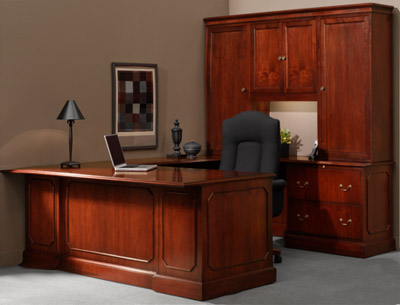 Don't replace your old commercial wood furniture just give it a facelift. If it is structurally sound and of a pleasing design, there is no reason to replace it. Let us send a team of experienced craftsman to do expert off-site commercial wood refinishing.
We will take your beautiful hard wood desks, book cases, filing cabinets, chairs, and other pieces to our facility, and return them to their beautiful wood.
You will be so impressed by the quality and beauty of the furniture you already own! It saves you money on purchasing new expensive pieces that can cost thousands of dollars.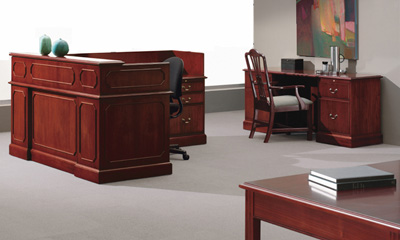 After transporting your pieces to our off-site facility we then remove the old finish. This process starts with surface preparation, either by sanding by hand (typically using a sanding block or power sander), scraping, or planing. Imperfections or nail holes on the surface may be filled using wood putty or pores may be filled using wood filler. Often, the wood's color is changed by staining, bleaching, ammonia fuming and a number of other techniques. Some woods such as pine or cherry do not take stain evenly, resulting in "blotching". To avoid blotching, a barrier coat such as shellac or "wood conditioner" is applied before the stain. Gel stains are also used to avoid blotching.We sand and in some cases (depending on the finish) use chemical to remove the existing finish.
Once the wood surface is prepared and stained, a number of coats of finish may be applied, often sanding between coats. Commonly used wood finishes include wax, shellac, drying oils (such as linseed oil or tung oil,) lacquer, varnish, or paint. Other finishes called "oil finish" or "Danish Oil" are actually thin varnishes with a relatively large amount of oil and solvent. Water-based finishes can cause what is called "raising the grain" where surface fuzz emerges and requires sanding down.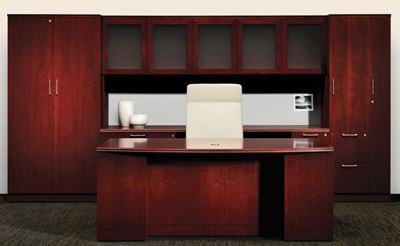 Finally the surface may be polished or buffed using steel wool, pumice, rottenstone and other polishing or rubbing compounds depending on the shine desired. Often, a final coat of wax can be applied over the finish to add a slight amount of protection.
What Can Be Refinished?
We wood refinish all types of commercial wood items such as desks, bookcases, chairs, built-in wall cabinets, tables, conference tables, church pews, etc. in the Cleveland, Ohio and Greater Northeast Ohio area. Please note that on-site wood refinishing services are available depending on the overall scope of work.