American Office Services is honored to have been selected as a part of the United Nations' Restored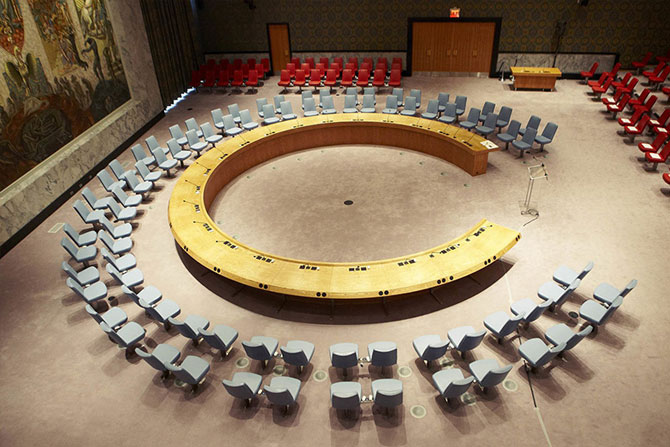 American Office Services was selected to provide historical fixed seating restoration as part of the United Nations' restored Security Council Chamber. All of the seats pictured in the article by Dwell were refurbished by American Office Services with new foam, fabric, and restoration of the metal components.
In addition to the Security Chamber, American Office Services also provided complete fixed seating restoration for the Economics Chamber and Trusteeship Chamber as well as the General Assembly, Plenary Hall. Every seat was refurbished in a secured warehouse with cameras watching over the pieces and the refurbishing process. With over 20 years of auditorium seating reupholstering and restoration project management experience, American Office Services was the perfect fit to tackle the complexity of the United Nations Security Council Chamber restoration project. American Office Services offers an affordable alternative to historic theater seat replacement costs. Using our state-of-the-art reupholstering and restoration techniques, your historic theater seating can look as good as new. To learn more about our Historical Theater Restoration services, click here.
Designed by Norwegian architect Ornstein Arneberg as a gift to the Norwegian government in 1952, the United Nations Security Council Chamber is now restored to appear just as it did when it first opened in 1952. American Office Services is proud to have been a part of this project to bring back the original bright space that the Security Council Chamber provides its 193 member states.
The United Nations' restored Security Council Chamber used Enviroleather PVC-Free Synthetic Leather, which has a host of environmental benefits, including:
Los VOC emissions, passes CAL 01350
PVC-Free, Chlorine-free (no vinyl)
Bromine-free
Plasticizer-free
Recycled and renewable content
No heavy metals
No Azo dyestuffs
Click here to read the full article!